BOTOX® & Xeomin®

Smiles, lips, crows feet, & facial lines can all be enhanced
Headaches ( tension TMJ, TMD or Migraines) are treatable…
When we smile, cry, laugh, frown, or look puzzled but we are contracting the muscles on our face. These facial expressions which use our underlying facial muscles can, over time, cause our skin to wrinkle and furrow. Neuromodulators such as Botox, Dysport and Xeomin are minimally invasive muscle relaxing treatments, able to counteract these natural facial movements. These nonsurgical injections can erase the marks of aging, leaving you looking younger and more confident in your skin!  Temporal and masseter muscles can be partially involved in the symptoms of facial, TMD, jaw and headache pain. We can treat these areas as well.
What is BOTOX®?
BOTOX®  is a prescription drug that is used cosmetically to remove wrinkles by temporarily relaxing muscles. It contains a purified and safe form of the neurotoxin, botulinum toxin A, which is produced by the microbe that causes botulism. BOTOX®  has taken the cosmetic world by storm by treating common furrows and deep wrinkles. As a matter of fact, BOTOX® does have many medical advantages as well. It is able to treat a number of medical problems, such as:
Excessive sweating
Neck spasms
Chronic jaw pain
Migraines
Commons Areas For BOTOX® and Xeomin
BOTOX® injections are able to block nerve impulses sent to muscles, weakening them to the point of temporarily eliminating moderate to sever furrows and lines. Some common treatment areas include:
Forehead furrows
Frown lines
Crow's feet
Skin bands on the neck
Cheek muscles ( clenching muscles), TMD relief and reshaping
BOTOX® and Dermal Fillers Before & After Photos

 Click here for TMJ pdf info for BOTOX®
Selphy Evaluation
Step 1. Evaluate yourself using the Selphy Evaluation Diagram.
Step 2. Mark up this chart, or take a selphy and mark problem areas.
Step 3. Send to Dr. Walk for evaluation an comments. ([email protected])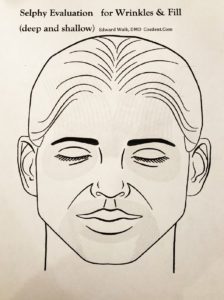 click here to download and print face chart
BOTOX® Procedure
With a very fine needle, we inject BOTOX® directly into the facial muscles that cause furrows and lines. Though injections do not require anesthetics, Dr. Walk may choose to numb the areas with topical anesthetic cream for extra comfort during the treatment. Dr. Walk's philosophy is "Less is More"; meaning that the doctor introduces the muscle relaxing effect gradually over several office visits, 2 weeks apart. This technique of minimal dosing of BOTOX®, allows for corrections and enhancements without overdoing any area. Dr. Walk says: "we can add more if necessary rather than deal with too much BOTOX®".
Click here to download Botox pre-instructions
What is Xeomin®?
Xeomin®, like BOTOX®, is a prescription medication (in the neuro-toxin family) which is able to effectively treat overactive muscle flexion. These muscle activities are commonly seen facially as lines in the forehead, crows feet around the eyes, bunny nose lines, and smokers lines (small vertical lines) around the mouth. Xeomin contains botulinum toxin type A, which is a naturally occurring protein produced by the bacteria Clostridium Botulinum.
We inject Xeomin into your target area which partially blocks nerve activity in the muscle. Although it may appear that Xeomin stops the muscle from moving entirely, this is actually not the case. Xeomin ultimately reduces muscle activity or contractions in that targeted area. BOTOX® and Xeomin are very similar in pharmacology and applied technique. Meaning that they work alike.
Xeomin & Dermal Filler Before & After Photos

How long will my results last?
Most BOTOX® and Xeomin patients are able to see their results after one week and on average, last up to 4 months or more. Individual patients differ in their timing.
How Many Injections will I need?
The number of injections necessary will vary from patient to patient and ultimately depend upon the number of muscles affected and the severity of the condition. These are non-permanent treatments and are considered reversible over time. Dr. Walk will be able to assess the best plan for you.
Is BOTOX® Safe as a TMJ Treatment?
Patients that suffer from the many symptoms of TMJ  may choose to receive BOTOX® injections. BOTOX® injections can help relieve patients from their constant jaw pain and headaches by resting the mastication muscles. Some central issues that emerge with patients are:
Does this treatment of symptoms come at a high cost of serious side effects?  

What are the long-term effects of constant exposure to this treatment?
How BOTOX® Treats TMJ
BOTOX®, short for botulinum toxin, causes treated muscles to become relaxed. Overactive jaw muscles could be one of the leading problems in the temporomandibular joint for some patients.
Patients who choose not to receive any treatment for TMJ may deal with disc displacement. As a result, a patient may suffer from clicking, popping, and irregular motion of their jaw. Once we inject the  Botox and the muscle relaxes, the jaw should then follow its proper motion and be less likely to pinch the nerve.
Schedule a Consultation
If you are interested in treating your wrinkles and furrows, then BOTOX® or Xeomin is a great option for you. If you would like to learn more about possible wrinkle reduction treatments, contact our office at 617-965-7673 to schedule a consultation today.
For bruxism, grinding and clenching download and fill out and bring to consult visit.
Click here to download form Myofacial Pain Health History Questionnaire